Landscape Lighting Design & Installation in McKinney, TX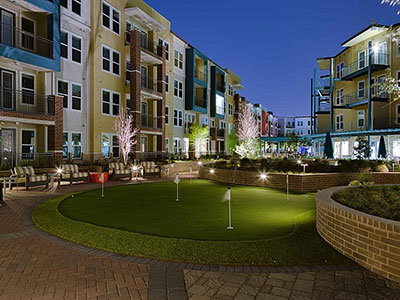 Landscape lighting has many benefits to offer. It helps enhance the beauty of your outdoors and landscape elements, creating a lovely place to spend time outdoors with friends and family. Outdoor lighting also has functional benefits such as improving safety and security. Besides, it helps add value to your property. At Nite FX Lighting, our outdoor lighting services help you enjoy all these benefits while transforming your visions and ideas into reality. We provide comprehensive landscape lighting installation, repair, and maintenance services throughout McKinney, TX, and the surrounding areas.
Whether you need low-voltage landscape lighting solutions, walkway lighting, or complete lighting installation and maintenance solutions for your home or commercial property, we have you covered.
Low-Voltage Landscape Lighting
We can provide
low-voltage landscape lighting
solutions that help you save up to 80% on energy bills as compared to using traditional lighting systems. Our team has decades of combined experience in designing and installing outdoor lighting for both residential and commercial properties. We can use LED lights to help you both save on your energy bills and reduce the impact on the environment.
Besides, these landscape lighting systems are known for their exceptionally long lifespan. When supported by our basic maintenance packages, you can have complete peace of mind and your cost of repair and replacement will reduce significantly.
Besides energy-efficiency, some of the key advantages of these choosing these systems for illuminating your landscape and outdoor features are as follows:
Safety: Low-voltage lighting systems are safer to use, especially in areas where they are exposed. While our installation processes ensure there are no open metal parts, these systems help further enhance the safety factor. Even when any component is exposed due to accidents, you will not have to worry about any hazards due to exposure to moisture or rain.


Longer Lifespan: LED lights have become an integral part of modern low-voltage landscape lighting systems. This readily translates into these systems lasting much longer than their traditional counterparts. It is for a reason why our warranty agreement offers 2-year LED bulb replacement warranty, lifetime brass fixture manufactory warranty replacement, a 5-year workmanship warranty, and many more replacement warranties on these systems.


Versatility: Low-voltage lights are relatively smaller in size. This provides versatility in terms of design. The bulbs can fit anywhere, and the designs can cover complex outdoor features and structures without much difficulty.


Lighting Design
Landscape lighting design
is as much about the science that goes behind it as the art. It requires a combination of proper positioning, technology, and aesthetics. We offer comprehensive lighting design solutions that address the architecture and styling of your home or commercial property. We also take your vision and needs into account when creating the perfect lighting plan.
Professionally designed lighting systems are known to increase property values by over 12%. When creating your landscape illumination plan, we will address both aesthetic and functional aspects. Whether you have an existing outdoor lighting system or not, we have the experience and expertise to deliver optimal results with our design services. We specialize in the use of timers and motion sensors to enhance functionality and help you save on energy costs.
Lighting Installation
Our team comprises experienced and well-trained
landscape lighting
experts. Our lighting designers and installers work together to understand your ideas and needs before transforming the lighting design into beautiful and functional outdoor lighting systems.
We approach each lighting project keeping in mind the goals of the property owner and the key landscape features. We strongly believe that any exterior lighting solution that we develop should be practical and well-balanced.
Whatever the scale or type of landscape illumination services you may need, Nite FX Lighting has you covered. We have the experience, expertise, skills, resources, creativity, and commitment to create custom lighting designs and transform your visions and ideas into reality. If you want to discuss your landscape lighting goals with us, feel free to contact us at 214-440-1015 or
write to us
. We service homes, commercial properties, and businesses in McKinney, TX, and the surrounding areas to enhance their outdoors functionally and aesthetically.