Landscape Lighting Design & Installation in Plano, TX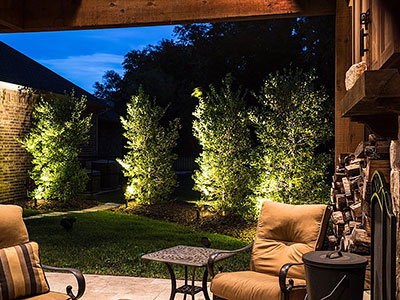 Nite FX Lighting provides end-to-end landscape lighting services and solutions to residential and commercial properties in and around Plano, TX. We bring together the experience, knowledge, skills, creativity, and resources you will need to achieve custom and high-quality outdoor lighting solutions. From an elaborate landscape illumination project to lighting a small backyard, we can handle jobs of all types and scales. Explore the range of outdoor lighting services that we offer in Collin County and the surrounding areas.
Low Voltage Landscape Lighting
Low voltage lighting
is the need of the hour, and we specialize in helping you keep your outdoor lighting costs low by designing and installing low-voltage solutions. Our experts will develop an elegant and well-integrated LED lighting system using the right techniques and fixtures. We will tie all the lighting factors together to create beautiful and functional illumination across your landscape.
All our low-voltage landscape lighting solutions are focused on helping our clients save money on energy bills while addressing their functional and aesthetic needs. Some of the key advantages of choosing our services are as follows:
Low-voltage LED lighting can help you achieve up to 80% energy efficiency
These lighting systems last longer and deliver long-term value
We install all the components from low voltage transformers to special cables to the LED bulbs to lighting control systems to motions sensors, providing end-to-end solutions
We provide a 2-year LED bulb replacement warranty and a 5-year warranty on our workmanship
Lighting Design
All our outdoor lighting projects begin with custom
lighting design
services. The design process takes your home's architecture and style into context to determine the right lighting and create the perfect effects. We can integrate low-voltage LED options into the process to help you achieve the desired lighting effects while keeping your energy bills in control.
Some of the key features of our landscape lighting design services are as follows:
We start by understanding your landscape lighting needs
Our designers will inspect your outdoors and discuss the use of different spaces
We will address the architectural lighting concepts
Our team will develop a landscape lighting design using advanced computer software
We will share the design map and overall budget with you
We provide upfront quotes and there are no hidden fees. Once the lighting design is approved, we take the steps to begin the installation process. Our design process is always focused on achieving customer satisfaction. At Nite FX Lighting, we work with all budget sizes throughout Collin County and Denton County, and the surrounding regions.
Lighting Installation
Our licensed and experienced electricians and lighting technicians will work with our design team to transform your outdoor lighting design into reality. We have the experience and skills required to handle your landscape lighting job to perfection. The key aspects of our lighting installation service that helps us stand out from the crowd are as follows:
We will mostly pre-assemble and install lamps in fixtures at our warehouse
All the power controls will be installed on site
All the wire runs to the fixtures are protected
All the fixture connections are secured with safe and durable connectors, usually brass connectors
The connections are soldered to prevent any issues
All the fixtures are placed and aimed in the presence of the designers
At Nite FX Lighting, we work with only premium-quality products. Our qualified team is well-trained and keeps up to date with the latest trends in technology and techniques. Over the years, we have been able to provide cost-effective pricing to our clients throughout Plano, TX. So, when you hire professional services for your
landscape lighting
needs, you will not have to worry about the costs. If you want to discuss your outdoor lighting needs with us, call us today at 214-440-1015 or
write to us
.