Landscape Lighting Services in Allen, TX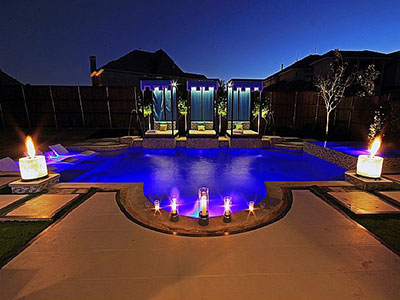 When it comes to your home or commercial property's landscape lighting needs in Allen, Texas, Nite FX Lighting is your one-stop destination. If you seek premium-quality walkway lighting and outdoor security lighting services in Collin County and the surroundings, we have the experience, licensing, and expertise required to take care of your project from design to installation to maintenance.
Security Lighting
When your yard and garden are well-lit, they prevent trespassers, burglars, and miscreants from finding space to hide. Our outdoor security lighting solutions are designed and installed with the goal of preventing potential crime and illuminating the way to your home. You can opt to have motion-sensor lights added to enhance your outdoor security and convenience.
Motion-sensing security lights activate whenever a person or an animal move. The area will be illuminated anytime a movement is detected, thus deterring intruders or stray animals. We can install different types of
security lighting
systems on your property including:
Motion detectors with LED or halogen lamps
Floodlights
Dual direction floodlights
Walkway Lighting
Walkways and pathways need to be illuminated at night to ensure safe walking. We provide walkway lighting along the border for optimal convenience and safety. Many of our clients in Collin County and the surrounding areas seek our services to upgrade their walkway and pathway lighting. We will customize the lighting solutions based on your landscape and unique preferences. This includes considering the theme of your landscape and even your home's style.
We work closely with you to understand your needs and preferences before creating a custom lighting design. You will have pathways and walkways leading to different areas in your yard or garden. Some of the key features of our
walkway lighting
services are as follows:
Louvered path lights can be added along the garden steps
Besides their functional benefits, our pathway lighting solutions also enhance the beauty of different features
The lights are positioned at the proper distance to avoid a sense of cluttering
Walkway lighting is subtle and just bright enough. This is important to prevent the lights from overwhelming the senses.
We specialize in LED and low-voltage landscape lighting solutions, thus helping you keep your energy bills low
Lighting Maintenance
Your landscape lighting system, like any other fixture, requires regular maintenance to ensure the systems last longer, perform at their optimal efficiencies, save energy costs, and require lesser repair. Our routine maintenance services and solutions include the following:
Replacing burnt out or broken bulbs
Replacing cut wiring
Refocusing lights
Debris removal
Tightening any loose components
Inspecting components such as transformers and timers
We provide regular maintenance packages along with our installations. Besides, we also provide maintenance solutions to clients who have had installations from other companies but are not satisfied with their installer.
We suggest that you call us to discuss your custom
outdoor lighting maintenance
package. Failing regular maintenance can increase the risk of various issues such as:
The lights can stop working
The lights need adjustment or repositioning
Moisture can build up inside lamps
Clock time or photocell can stop working
Light sensor issues
Light fixtures may stop working
Our typical packages involve bi-monthly to annual reviews.
From illuminating a small backyard to a commercial landscape, we have the experience and resources to handle outdoor lighting projects of all sizes. We handle all aspects of landscape lighting installation, maintenance, and repair. Our team includes licensed and insured professionals with decades of combined experience. We always suggest the most efficient and affordable solutions to address our clients' unique needs. For more information about our outdoor lighting services in Allen, TX, call us at 214-440-1015 or send us your queries from our
Contact Page
.